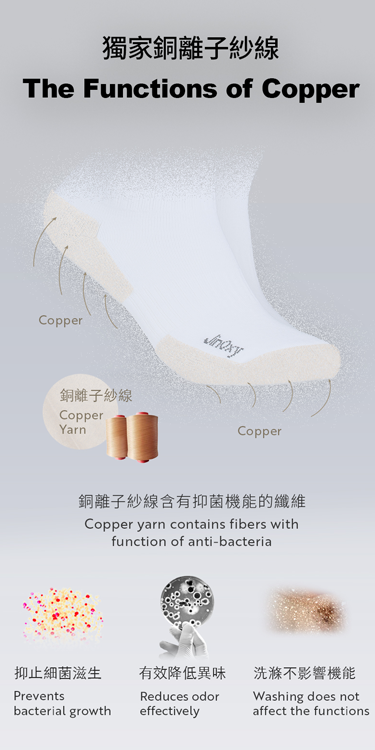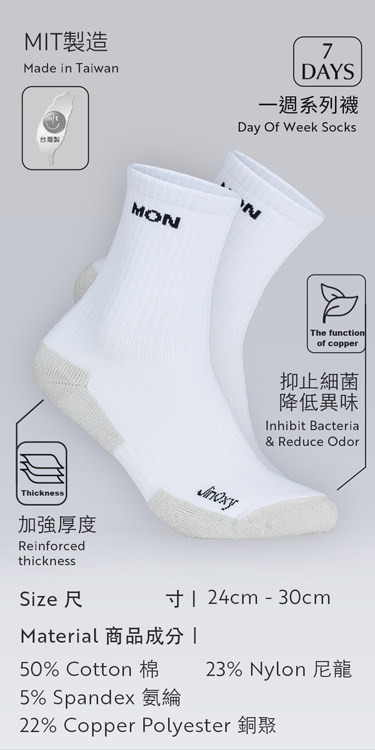 Product Description
Functional Ankle Socks: effectively inhibit bacterial growth and prevents odor 
Copper Polyester is knitted in areas that are most likely to sweat and rub; this strengths thickness to create a comfortable cushion which improves the level of protection and durability
Copper Polyester:
・Inhibit bacterial growth (functional efficiency is up to 99%)

・Prevent odor
・Washing does not affect functions
・Developed in-house: certified by SGS, safe to wear

Product Content
50% Cotton 
23% Nylon 
22% Copper Polyester 
5% Spandex 
Product Specification
Specification: SUN / MON / TUE /WED / THU / FRI / SAT
Size: Free Size ( 24 cm - 30 cm )
Place of Origin: Taiwan
Precautions

※ All products are measured horizontally.
※ Due to the elasticity in this product, measurement difference of ±3cm is acceptable.
※ It is not considered as a defect if the product is within the scope of international inspection standard.
※ There may be a slight color different in the pictures due to the different lighting and angles of indoor and outdoor shooting.
※ Socks are intimate product, hence are not eligible for 7-day return or exchange policy (defect products are excluded). 
※ Creep of thread is normal since the product is made of cotton.
Washing Instructions 
1. Machine wash cold (temperature should not exceed 40 ℃). Please separate dark and light colors. 
2. Please soak with mild soapy water or laundry detergent (no chlorine or bleaching ingredients).

3. Lay flat to dry. Do not tumble dry. Do not bleach. Do not dry clean.
4. Avoid friction between clothing, accessories, jewelry, bags, and etc.